London Garden Lawn Specialists - Photo Gallery 2 Back to Garden Lawns
Care and Maintenance of yourGarden Lawn -
Lawn Photos >>> | Lawns 1 | Lawns 3 |

Lawn Photos >>> | Lawns 1 | Lawns 3 |
Care and Maintenance of Garden Lawns and Turf - A Guide by Belsize Landscapes
Watering your Lawn - Belize Landscapes can supply automatic irrigation Lawn systems
One nice deep watering session is much better than several quick watering sessions
Make sure your Lawn and Turf receives about an inch of water a week
When the weather is very hot your lawn needs an inch of water every three days
An occasional deep watering session (around 5 inches ) will encourage lawn root development and lead to healthier turf
Early morning watering of your lawn reduces heat evaporation on summer days
Care of your Garden Lawn - Soil Varieties
The type of soil affects the amount of water your Lawn and Turf needs.
Spiking a lawn or Loosening soil around plants, Turf and Lawns promotes water and nutrient absorption
Clay Soil - Compost and peat moss can be added to promote lawn growth. Clay soil requires tilling to help with the absorption of water. Careful watering is required
Sandy Soil - Lawns in sandy soil need organic supplements to promote healthy Lawn development. Organic supplements help prevent rapid water absorption and give the roots a chance to drink
Loam Soil - A mix of silt sand and clay- ideal for healthy lawn development
Lawn Care - Commercial Fertilisers
Fertilisers provide essential nutrients to promote healthy lawns and turf . Potassium is required for healthy root and disease resistant lawns, nitrogen promotes green lawn growth. phosphorous is important for lawn roots and lawn seed development. Commercial lawn fertilisers need to be properly applied to prevent contamination of the water table.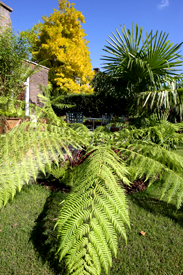 A lawn soil test will help your determine the correct nutrient balance for your lawn. A sulphur coated slow release nitrogen fertiliser will help keep your lawn in tip top condition.
Fertiliser is best applied to lawns and turf when the soil is moist to ease uptake by the roots - after watering or heavy rainfall is ideal. Lawn fertiliser should be applied frequently and in the absolute minimum quantities. Care should be taken in the application of lawn fertilisers and pesticides to prevent pollution of the water table. Another draw back of commercially available lawn fertilisers and pesticides is that they often kill beneficial insect life as well as harmful ones.
Organic Alternatives to Lawn Pesticides and Fertilisers
Leaving quantities of mown grass on the lawn surface to decompose is the organic equivalent of commercial fertilisers - and it is free!.
Harmful Lawn Insects can be organically controlled in a number of ways. A spoonful of soap in each gallon of water makes an excellent deterrent to harmful lawn insects
The presence of certain types of plants in and around your garden lawn can prevent insect infestation and make excellent organic alternatives to commercial lawn pesticides.
Organic Insect Repellents for your garden plants and Lawns
The following plants will deter insect infestation from your gardens and lawns
ANTS - use mint, tansy and pennyroyal
APHIDS -Aphids hate mint,chives, garlic, anise and coriander
BEAN LEAF BEETLE - deter with potato, turnips and onions
CODLING MOTH - These hate oleander
CUMBER BEETLE - hates tansy and radish
FLEA BEETLE - mint, garlic and onions
CABBAGE WORM - sage, mint, and rosemary
JAPANESE BEETLE -geraniums, tansy, garlic
LEAF HOPPER - hate petunias and geraniums
MICE - Plant onions to deter mice
SLUGS - try wormwood and prostrate rosemary
SPIDER MITE - Chives, cloves, onion and garlic all work
STINK BUGS - radish is good for these
WHITEFLY - Nasturtium and Marigolds are good for these
Organic sustainable Lawn and Garden maintenance advice comes as standard with Belsize Landscapes Lawn and Garden Design.
| Contact Belsize Lawn and Turf |
Belsize Landscapes Lawn and Turf Specialists Lawn and Turf London Garden Lawns Garden Lawn Fertiliser Organic Turf and Lawns Cheap Turf and Lawns Sustainable LAwns Garden Lawns Permaculture Lawn Design Lawn and Turf Contractors Lawn and Turf Suppliers Garden Lawn Specialist Garden Lawn Installation Laying Garden Turf Organic Pesticides for Lawn and turf